With allready 1400% funded at
Kickstarter
this projects looks promising!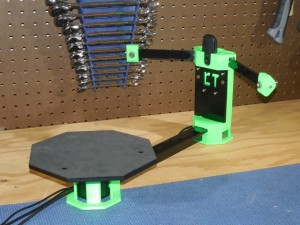 3D printing is marvelous, however if you need to duplicate a current object of yours, you have somewhat of a test before you. You can either get the opportunity to chip away at a 3D CAD program and reproduce the piece, however that requires abilities the normal customer doesn't have. On the other hand, you can examine it. 3D Scanners can be costly, which is the reason we're inspired with by CowTech Ciclop by Jason Smith. It's a pack that contains nearly all that you need to make a scanner; what doesn't accompany can be printed with your current 3D printer. Open Sourced of course!;)
How did you come up with idea of an 3D Scanner and what made you "go for it"?
Both of us were very interested in the 3D printing field and we were really looking for a way to replicate objects without creating the CAD file from scratch. 3D scanners were an obvious solution but they were all so expensive. After looking at the technology available, we ran some numbers and guessed that we could make our own
3D scanner
for a fraction of the price of existing models with just a few tweaks.
I see you have backed a lot of projects on Kickstarter, this is more then a job for you is it?
It is certainly more than a job. I love Kickstarter and the idea of being an early adopter and helping really neat projects get off the ground. I hope that with my projects I provide a platform for people to do the same thing.
Was the choice of open source easy for you and how come you choosed it?
Well, we designed the scanner from an open source project, so we did't really have an option in terms of how we would release it. However, even if we had pioneered the technology, we would have strongly considered making it open source. I love the open source concept and the way that it accelerates technology growth and collaboration. 3D printing certainly wouldn't be where it is today with the open source revolution within the industry.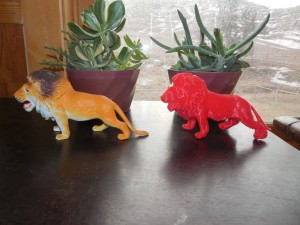 Lion Copied by Ciclop 3D Scanner
If everything goes according to plan, what's your ultimate vision??
Weston and I just want to make awesome products that shatter price points and use common sense engineering. We operate with low overhead, we are savings minded, and years of growing up farming and ranching has given us loads of experience in engineering and design. We have been working on stuff and fiddling with bolts since we were young kids and that teaches you a thing or two about how to design. We know what it's like to not be able to reach a bolt with your socket wrench, so when we design parts, we make the bolts easily accessible, for example.
Give us 3 tips from what you have learned on your way to other technology entrepreneurs?
The first is that you have more skills than you think, and don't be afraid to utilize them. Time is your greatest enemy, and sometimes there just isn't enough to get everything done without outsourcing labor, but if you can do it yourself, don't be afraid to do so. It doesn't take a professional graphic designer to make a logo, or a webmaster to create a website. There are increasingly more and more tools that are oriented towards doing these types of things yourself, starting with little to no experience, and they can be great resources.
Second, if you are launching a Kickstarter, make sure you work out as many kinks as possible before you launch your product. Having a prototype and a product that is production ready are literally worlds apart. Do as much part sourcing and final design work as you can, because the littlest tweaks that are necessary to go from prototype to product can be surprisingly expensive.
Finally, there are so many resources online in forums and groups where people are willing and happy to help you out with any questions you have from engineering to software to marketing. They are a really valuable resource to assist in areas where you may not have the expertise or just need help working out a bug.
Finally, tell us: why should your project get funded?
Well, as of this printing, we are already nearly 1400% funded, so there has clearly been a huge demand. However, we stand for more than just producing an affordable product. We are trying to revolutionize the 3D scanning scene. The 3D printer revolution has already come and now is time for the scanner revolution. We wanted to get open source scanners in the hands of as many makers as possible, and we hope that together the project can evolve and improve to totally change the face of 3D scanning.
Already 1400%, that's amazing! I was going to end this interview with a "good luck" but clearly that's not necessary in this case! CowTech will go far with this one! Now get your own Ciclop and back this 3D Scanning Project!
Big Thanks to Jason Smith at CowTech, best wishes!