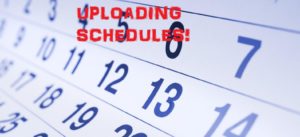 HotSchedules is a top notch employee scheduling application which makes it very easy and fast to communicate to your employees about their work schedules. You can check their work and even send them alerts about any changes or urgencies. Any changes made by the manager are automatically updated in the system and communicated to them.
https://youtu.be/xljcaeICsYQ
Features of the software for owners
Sales and Labour snapshots can be compared easily to the actuals.

Post current and future schedules and the ability to make any changes in it anytime.

Ability to set up notifications and approve or reject any change in schedule requests.

Manage time off requests and be able to view the blocked dates.
Features of the software for employees
Be able to see your schedule from anywhere and at any time.

Synchronize your schedule with your personal calendar.

Ability to see all open shifts and make requests to pick up and change schedules.

Contact all the co-workers just by one click through the email, text or the software platform.
Advantages
Using HotSchedules saves a lot of time as setting up schedules and managing them becomes a matter of minutes.

It is very convenient to operate as the application is very easy to install and manage.

Keeping all records with regards to employee information becomes a smooth process and everything limits at one location.

Definitely one of the best employee schedule maker!
ShiftPlanning software is a workforce management software made for optimum use in the 21st century. This easy to use software is always updated and hence keeps everyone informed about all the latest information.
https://youtu.be/4Y75NUJV4Q0
Features of the software for employers
A clean software interface which lets you drag and drop actions to make any changes and you do not need to keep saving each time as the changes automatically keep getting updated .

An access to a customer service representative who is there to help you as and when required .You can contact him and he will be willing to provide you the help needed and that too at no extra cost.

No need to enter any data twice , you can easily import or export data as and when required .What is more, you can synchronize it with external applications and use that information too.
Features of the software for employees
Available as an application suited to all kinds of mobile devices.

User passwords are not incorporated in a human readable form to maintain any security issues.

The software lets the employees download their data at any time to ensure their peace of mind.
Advantages
Very easy to operate from any computer or mobile device the only requirement that it should be linked to the internet.

It has a very strong interface and that coupled with its hi-tech scheduling facilities make it one of the preferred software in its field.
ZoomShift has a useful work schedule maker and time clock which is bound to make your work so much easier. Usage of zoomShift helps the employer in improving the performance of his workers within no time and from anywhere. A perfect business employee schedule maker app for any manager.
https://youtu.be/L1sTRrkrazA
Features of the software for employers
Choice of day, date, months and filtering the schedule in many other different ways possible.

An option of preparing schedule templates which can be utilized later on as per the requirement.

In case you are making any mistakes in the form of any wrong shifts being entered a warning message is provided to warn you about the same.
Features of the software for employees
The facility to receive any notifications through email or text messages. This way they are reminded about any changes made or any updates.

An option to customize their own notification settings which means you can create notifications for things that you need information about and forget the trivial issues.
Advantages
Use of features like swap shift helps employees make any changes in shifts to accommodate their personal exigencies.

An inbuilt clock tracks each employee's time in the office and keeps you informed about the lack of hour's completion.

An easy employee schedule maker app that's fast and reliable.

The ability to check which group is performing better than the rest and how.
Planday is an employee scheduling software that provides the managers and employees both a chance to work smartly. No use of old planning schedules as Panday reduces admin time by about 75 %.The punch clock feature ensures that they reach the workplace even before they can clock in the entry.
https://youtu.be/-KfAu6p47Ww
Features of the software for employers
Ability to view and update schedules at your convenience and also check worker availability for shifts.

Ease of setting up employee groups according to different skills and jobs.

An option of copying your weekly schedule into future weeks.

An accurate punch clock which is location based.
Features of the software for employees
An integrated messaging system which informs all employees or even some specific ones about any changes.

Very easy process of shift swapping makes it convenient for you to do the same with your colleagues.

Ability to manage your vacations and holidays as per your need.
Advantages
Free trial available which lets you try the product before proper use.

The skill set function helps employers in looking for employees within one skill set and job ability.

Very easy to operate and no prior software knowledge required to use it .A small training session is enough to guide you about the usage manner.
ClockIt is a cloud-based automation tool which provides organizations the ease of managing time, attendance, and payroll and leaves records. This is a free employee schedule maker app for up to 3 employees.With the help of automatic reports and email facilities, you can keep a track of the worked hours very comfortably.
Features of the software for employers
The option of receiving reports about the health of your company gives the employees an overview of the issues present in the organization.

A dedicated support team which is available online to help in case of any problems faced.

Usage of the latest technology and an auto update facility every month.
Features of the software for employees
Easy access and remote login available for leave management and other issues faced.

Integration with Google maps helps you in knowing the distance traveled and time left to reach the workplace.

A shared calendar available for you to keep track of which employees are on leave and when and plan your vacation accordingly.
Advantages
An ability to export data from anywhere increases ease of use.

Free employee scheduling software up to 3 employees.

Be able to post your schedules online due to the software being cloud based.

A free trial lets you test the product before signing up for the complete package.